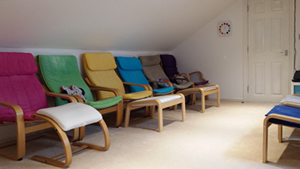 Hypnobirthing Antenatal classes for 1 to 4 women are run near Askham Bar Tesco and Huntington, York (address provided on booking). Classes ideally between 20 and 34 weeks pregnant (but not essential).
TO BOOK OR FOR MORE INFO EMAIL info@nurturenatal.co.uk
WHEN? Classes normally take place over two weekend days 9.30 or 10am to around 2.30 or 3pm. Sometimes a single day is offered. Private courses can be provided.
NEXT COURSES-
11th May 2019 (10am until 3.30pm approx - bring lunch)
3rd and 10th August 2019 | 23rd and 30th November 2019
COST. The course costs £120 per woman (you can attend alone or with a partner) and includes electronic parents pack.
+ Optional extra hour "Breastfeeding with Becky" is £15 per woman
REFRESHERS OR THE BASICS SESSIONS. Individual refresher 1.5 hour sessions / the basics session are £65.
WHAT WILL YOU LEARN?

Full antenatal education course

KG hypnobirthing to increase relaxation and releasefear

How the body works in all stages of labour

Optimising the environment to increase chance of desired birth

T
he role of an effective birth partner

How to work positively with your medical professionals

How hypnobirthing can help if you need a caesarean section

E
arly parenting skills and newborn baby care (optional)
KG Hypnobirthing can allow you to have an instinctive, calmer and more comfortable birth, whether a vaginal, assisted or a caesarean birth.
Techniques are easy to learn and include visualisation and breathing exercises. By practicing the positive techniques women are given the tools which will allow them to reduce their stress and fatigue, supporting the release of oxytocin and helping their body to give birth as nature intended.
For couples, hypnobirthing is a wonderful way of brining closeness as they prepare for and enjoy the arrival of their baby. Birth partners also enjoy having a more clearly defined role during the labour and birth.