Hypnobirthing Antenatal classes are run from our centres near Askham Bar Tesco York and training room in Huntington (full address details provided on booking). They normally take place over one Saturday and one Sunday 9.30 or 10am to around 2.30 or 3pm.
The course costs £110 per woman and includes electronic parents pack. We run courses for 1 to 5 couples so places are very limited. You are welcome to come on your own or with a partner. Women are normally around 24-30 weeks pregnant when they attend the first session, though you are welcome anytime after your 20 week scan and later in your pregnancy too.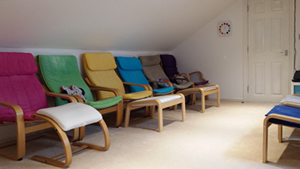 COURSE DATES 2016/17
We would consider additional course dates or moving dates to suit the couples interested if we are available. TO BOOK OR FOR MORE INFO EMAIL hypnobirthing@nurturenatal.co.uk
| | | |
| --- | --- | --- |
| | Day 1 | Day 2 |
| August 2017 | 12 Aug | 19 Aug |
| November 2017 | 18 Nov | 25 Nov |
| | | |
| | | |
| | | |
Covers a full hypnobirthing syllabus alongside everything you would expect from a comprehensive course of antenatal classes. You will be given information on;

how the body works in all stages of labour

how to optimise the environment to help you to achieve a comfortable and calm birth

the role of an effective birth partner

h
ow to successfully work together with the medical professionals caring from you including if you need a caesarean section

infant feeding

e
arly parenting skills and newborn baby care (optional)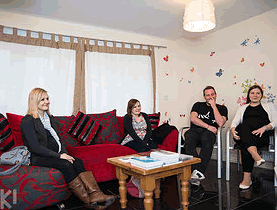 KG Hypnobirthing is a technique that women (or couples) can use to help pregnant women to release any fear they have associated with childbirth. Deep relaxation, releasing fear and tension can allow you to have an instinctive, calmer and more comfortable birth, whether a normal delivery or a caesarean birth.
Techniques are easy to learn and include using visualisation whilst performing breathing during relaxation exercises. By practicing the positive techniques women are given the tools which will allow them to reduce their stress and fatigue, supporting the release of oxytocin and helping their body to give birth as nature intended.
For couples, hypnobirthing is a wonderful way of bringing them closer together as they prepare for and enjoy the arrival of their baby. Birth partners also enjoy having a more clearly defined role during the labour and birth.
Hypnobirthing antenatal courses generally run over two Sundays each month; though we are also happy to run private courses in your home or at our training centre.
Optional extras available include the Hypnobirthing Handbook by Katharine Graves and CDs to play at home