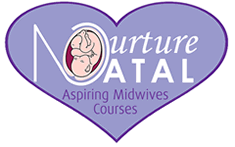 ASPIRING MIDWIVES COURSES. Next course starts 17/4/21, with FREE induction / info session on 1/4/21.

Online and interactive

Pick and mix OR ....

Save money with Inspire & Learn / Study Ready

Full course places by successful application only

Bursaries available for disadvantaged groups
So You Want to be Midwife Aspiring Midwives Day

Get essential support with personal statement writing workshop, interview prep and discussions about gaining appropriate experience.
Aspiring Midwives An introduction to...Microbiome

The microbiome huge impact on the health and wellbeing of individuals and populations. It is seeded at birth. What it is, how it is seeded and why it is so important will be discussed.


Aspiring Midwives An introduction to...Breastfeeding

We share some of our hints and tips on breastfeeding and some more in depth breastfeeding information.


Aspiring Midwives An introduction to...Hypnobirthing

The day will cover most of what we teach to women who come on the course which includes an exploration of the work of birth gurus such as Michel Odent (whom we have attended training days and corresponded with) and will help you understand the evidence behind hypnobirthing. We use the KG method for the hypnobirthing. This course does not teach you how to teach hypnobirthing.


Aspiring Midwives Embryo to Infant Nurturing
This final inspirational session draws together everything you have learned on the rest of the programme and fills in the gaps. How what happens when in the womb and early years of life impacts on our life physically and emotionally and what midwives can do to educate and positively impact these outcomes.


Midwifery Topics Workshop

Two hours to explore current issues affecting midwives and the NHS - this workshop is only put on by request and enough attendees to make the discussion worthwhile. Designed to develop critical thinking, team work and just have fun talking about things that interest you.
Aspiring Midwives Normalising Diversity
Learn some of the fundamentals of diversity, equality and inclusion and what this means when working in maternity. Get a head start being inclusive in life.


Think Social Media for Aspiring Midwives

Learn to think differently about your social media presence in preparation for becoming a student midwife.

Study Ready Course
We share some practical top tips for how to prepare yourself for degree level study and to give yourself the best chance of academic success.

*<<<CLICK HERE FOR SPRING COURSE PRICES AND DATES>>>*

AUTUMN/WINTER 2021 DATES COMING SOON