Established in 2013, the Nurture Natal Philosophy:
Birth is a normal experience driven by thousands of years of evolution. Fundamental to the success of this process is the release of essential hormones including our best friend, oxytocin. Providing information on how to encourage the production of these hormones that contribute to a normal birth experience underpins our philosophy and course delivery.
Equally, we recognise that occasionally even in nature things can go wrong so our classes also seek to help you better understand the reality of 21st century birth; so you can understand when there is a need for medical support and how to remain relaxed and still feel in control if you need it.
In short, we strive to provide birthing people with information that empowers them to make informed choices and trust their instincts, both in birth and early parenting. We will provide you with practical tools that you can use to support you in achieving these outcomes.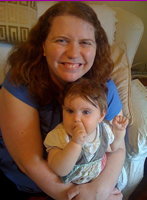 Nurture Natal teachers (Becky and Jeni) are multi-qualified birth and education professionals:
Qualified midwives
Hypnobirthing teachers
Jeni holds a teaching qualification
Are both masters level educated and both also hold two first class honours degrees
Becky is also an IBCLC and working towards

qualified teacher status for post age 14
Becky also holds an IT background and degree meaning online platforms suit us very well
We want to offer low cost courses to make them as accessible as can.