What's on offer from your local york butcher
Our customers come to us because they like to eat well and know the meat they are eating is of the best quality. And with quality, comes taste! As well as offering a superior service, we offer a wide range of top quality and delicious meats and produce within York including: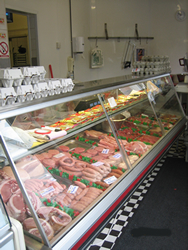 • Aberdeen Angus Beef supplied by RC Turnbull & Son of Foxfoot Hay Farm, Coxwold, York
• Rare breed Pork from Agar Brothers, Prospect Farm, Huby
• Homemade Burgers - Beef, Pork and Lamb
• Homemade sausages - in a variety of flavours e.g. Cumberland, Tomato, Pork and Leek
• Homemade Pies - fresh and delicious - flavours include; Steak, Steak and Kidney, Mince and Onion and Chicken Pies as well as Pork Pies.
• Homemade Sausage Rolls, Cornish Pasties and Egg & Bacon Flan
• Hot Meat Sandwiches - great as a tasty lunch
• Dry Cured Bacon - cured on the premises and offers exceptional flavour
• Farm Fresh Eggs
• Turkeys - pre-order at Christmas